10 Tips for a Healthy Heart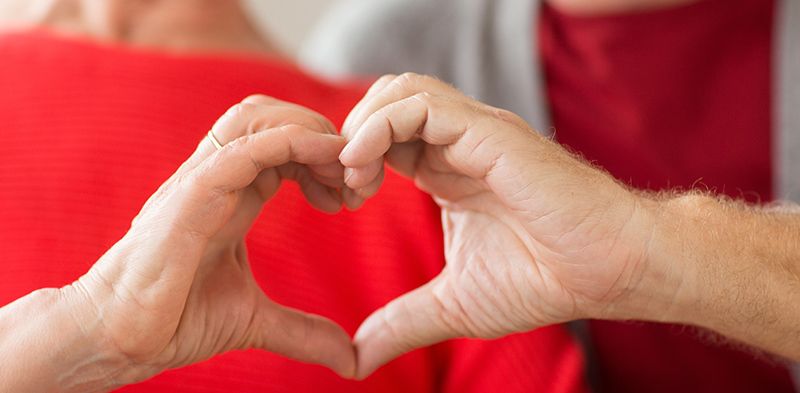 According to the
CDC
, 610,000 people die of heart disease each year in the United States–25% of all deaths. While diabetes, high blood pressure, and smoking are considered high risk factors, even those without risk factors can suffer from heart disease. Problems with the cardiovascular system are often hard to identify, with a number of unexpected and unnoticed early symptoms. In fact, 80% of strokes occur with no warning signs at all. However, taking care of your heart day to day, in conjunction with regular screenings, can help minimize your risk.
Keeping your heart healthy does take effort — possibly requires changes in everyday habits, such as eating a heart-healthy diet and increasing your activity level.
The following steps are ten things people of any age should practice to maintain a healthy heart.
1) Stop Smoking– Smoking is the #1 controllable risk factor for heart disease, in addition to the number of other negative effects it can have on your body. We recognize that quitting isn't easy. So talk to your doctor, get a support team together, and make a plan to work towards a smoke-free life one step at a time.
 2) Get Moving – Aerobic exercise is known to help maintain heart health. Dance, swim, or bike to get your heart pumping. If you have certain health conditions that make certain types of exercise more difficult, consult your doctor to discuss the best workouts for you.
3.) Get Some R&R – Reducing stress is a great way to improve overall health, and support your heart. So take a beautiful walk, enjoy a good book, meditate, or do something else to help you unwind and declutter your mind.
4.) Eat Well – A heart healthy diet includes whole grains, fruits and veggie, nuts and beans, olive oil, and fish. Avoid highly processed foods, and talk with your doctor about your weight to adjust you portions if necessary.
5.) Practice Good Oral Health – Surprisingly, gum disease and heart disease appear to be linked. Take proper care of your teeth and gums to reduce your risk of heart disease and other conditions.
6.) Maintain a Healthy Weight – Work with your doctor to manage exercise and portion control. According to the Cleveland Clinic, being overweight can increase one's risk for heart disease and stroke. Eat healthy portions, avoid high cholesterol foods, cut down on sugary drinks, and exercise regularly.
7.) Rest up – A good night's sleep can make a world of difference. WebMD recommends aiming for 7 hours of sleep a night, as studies have shown that those who sleep this much tended to have less calcium build up in their arteries than those who slept 2 hours less or more.
8.) Indulge a Little – Studies have linked moderate consumption of both red wine and dark chocolate to maintaining heart health over time. If you're having trouble sticking a heart healthy diet, keeping an occasional treat like a piece of dark chocolate can help you to eliminate more risky foods from regular rotation in your diet.
9.) Limit Alcohol Consumption – Drinking too much regularly can increase your blood pressure. This means that women should limit themselves to 1 drink per day, while men should drink no more than 2.
10.) Have Regular Check-Ups – Make sure to see your doctor regularly to stay on track for your overall health. However, not all medical offices regularly screen patients for heart disease. Either way, they should help you to maintain healthy weight, monitor changes in your vital signs, and address obvious risk factors like family history and smoking.
To take the best care of your heart, you need to understand your risk factors. Meet with your physician or clinical expertise to set up a screening to check your heart health. It's never too late to start living an active, healthier lifestyle.
Early Detection is Essential & Can Save Your Life
Learning the early signs of a stroke is essential to prevent further damage to the brain, major disabilities, or even death. Knowing the F.A.S.T. acronym is the best way to remember the signs of a stroke and the actions you need to take to get help. And don't disregard TIAs either; even if the symptoms subside, they are a major warning sign that something is going wrong in your brain. 
Get a Screening for early detection and piece of mind
A preventive health screening service is designed to identify risk factors that can lead to heart disease, stroke and other serious illnesses. We use three non-invasive methods to get you lab-accurate results and recommendations you can review with your doctor.
How a Preventative Screening Saved Sheri's Life
Sheri Rowney is a writer for Health and Wellness Nashville.
In her article, How a Postcard Saved My Life, she talks about how she attended a Life Line Screening event on a whim, spurred by her interest in health and prevention. She thought the event was close by, convenient, and affordable. Needless to say, she didn't ever think the screening would save her life.
"I had considerable blockage in my carotid arteries, and no symptoms. Thanks to Life Line Screening for sending me the postcard that probably saved my life."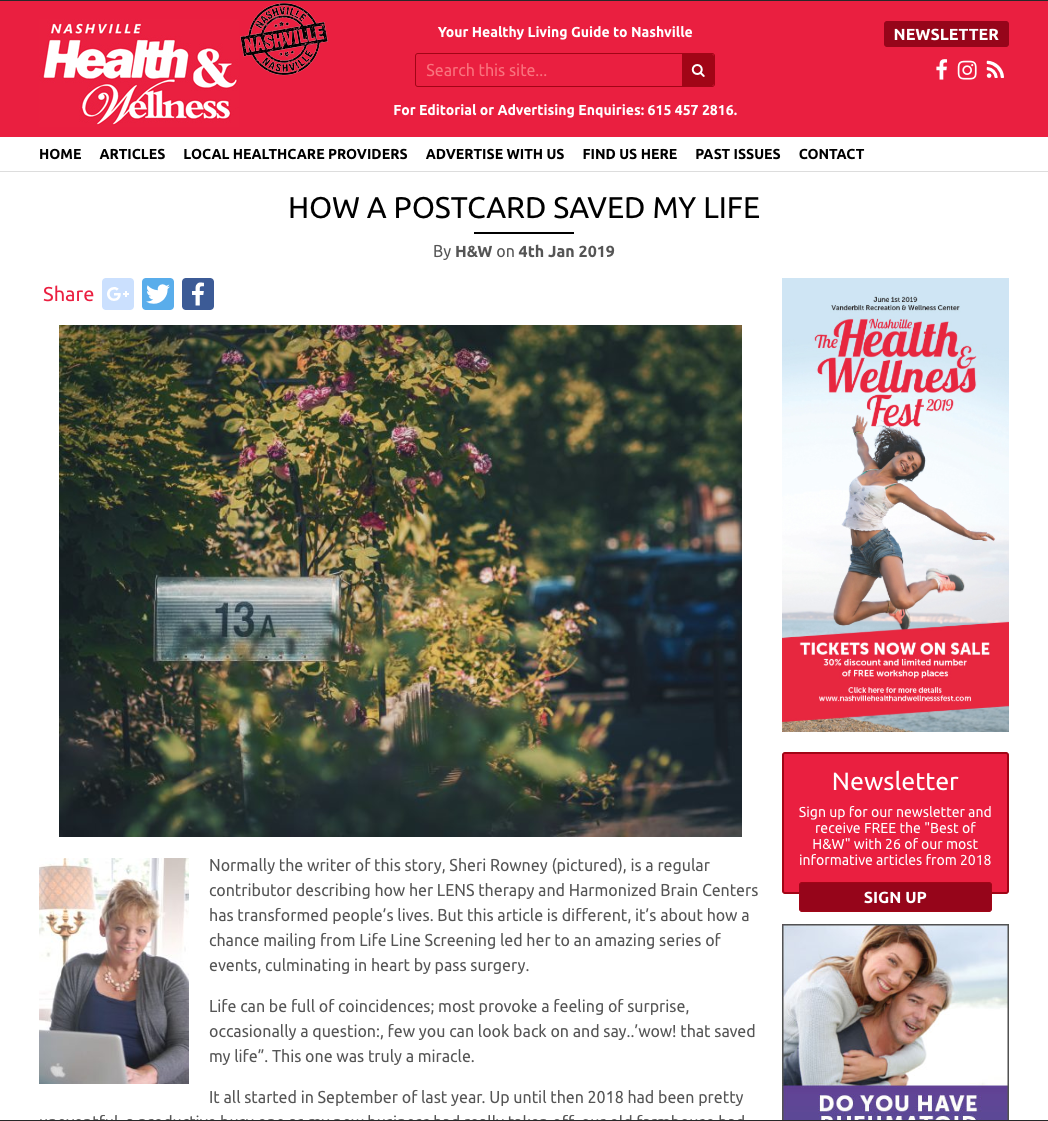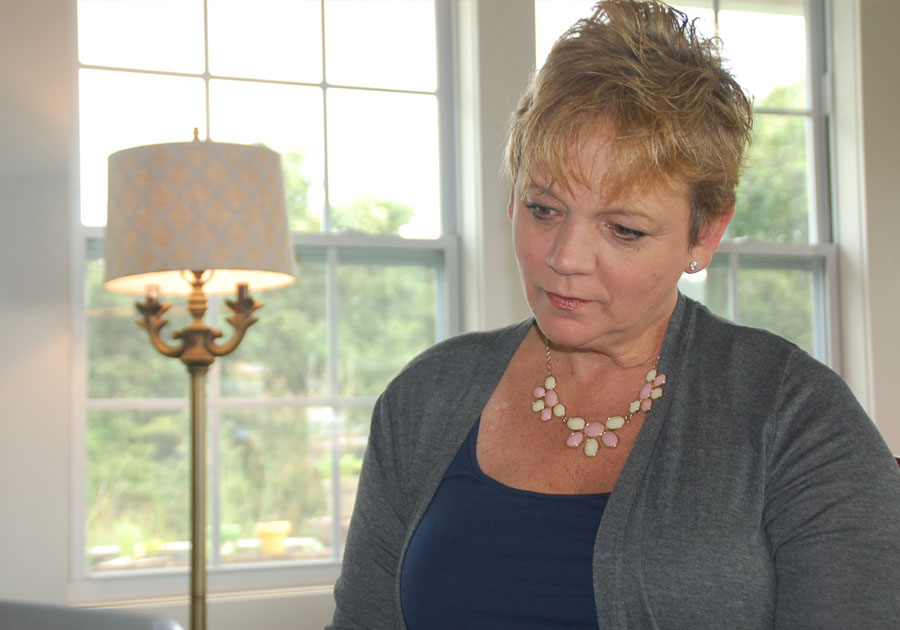 After her screening, Sheri consulted a doctor at the prestigious Vanderbilt UMC in Nashville. After a series of tests, which confirmed the Life Line Screening findings, she also discovered that she had calcified plaque in her coronary arteries, the arteries surrounding her heart.
Sheri was shocked because she'd had no symptoms and felt well, but during an ultrasound stress test she struggled to breathe and the doctor recommended she have a heart catheterization right away. All of this in just a matter of days!
Cardiac bypass surgery followed, and luckily, Sheri is doing well. She credits her faith for getting her through, and thanks Life Line Screening, her doctors, her husband, and her family and friends for being there for her at each step.
Special Offer for Senior Care Nation!
Just for our readers at Senior Care Nation we are offering you an exclusive deal with the best screening company in the country, Life Line Screening that can identify risk factors that can lead to heart disease, stroke and other serious illnesses. .
5 Screenings For Only $149 - save 50%
Normally $330
Schedule Online or Call Toll-Free 
800.718.0961
• Carotid Artery Screening (Plaque)
• Peripheral Arterial Disease Screening
• Abdominal Aortic Aneurysm (AAA)
• Atrial Fibrillation
• Osteoporosis Risk
Did you Know For 4 out of 5 people who have had a stroke, the first symptom of any illness is the stroke. 80% of strokes and heart disease can be prevented. — American Heart Association